The Grandmothers' focus was on the U. S. Senate and doing our bit to keep it in Democratic hands.   While most of us were heavily engaged in races in our own states, those who could also sent cards to voters in two crucial Senate races: New Hampshire and Louisiana.
Massachusetts Grandmothers directed their energies primarily on New Hampshire because Scott Brown had been briefly their Senator until Elizabeth Warren beat him, and they were determined to see him held accountable for his record. Triumph! Jeanne Shaheen remains in the Senate.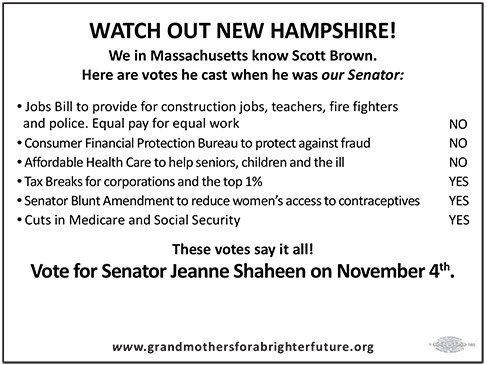 Groups of Grandmothers in Connecticut, Virginia, New Jersey and Vermont as well as Massachusetts focussed on Louisiana. We chose Louisiana because of the fear of exactly what happened. Mary Landrieu did not receive 50% of the vote in the general election, and she lost in the runoff against an opponent staggeringly well funded by the full force of ALL that Republican money.